OMG! THREE NEW SS20 COLLECTIONS from DOLLY !!!
DOLLY'S NEW SS20 
LACY & BEACH BALLERINA
 & JEWELER'S CRYSTALS COLLECTIONS!
Order for your store Now!
Closing Date Sept 1st.
LACY COLLECTION 
       ' Lacy…the sweet name for everything made from lace'   DOLLY by Le Petit Tom ® turned all her best selling signature styles completely into luxury lace. Find Dolly's popular pettiskirt, famous frilly pants tutu bloomer, cutest frilly dress and her indispensable long and short tutu's made from the softest lace in beautiful, classic colors. 
Wear your DOLLY Lacy at a wedding, ceremony, party or prom, to the theatre, the movies, ballet and every other day you feel you're in the mood to feel Lacy!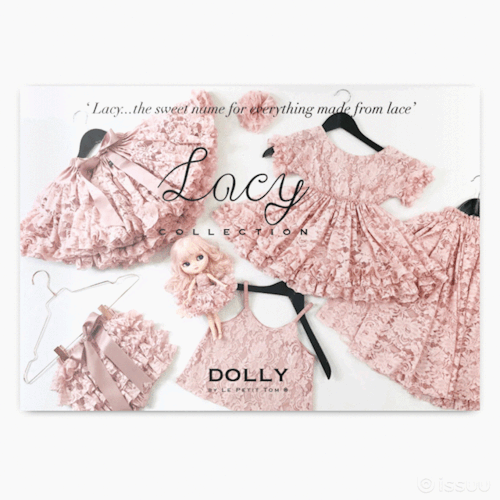 Make dreams come true in Dolly's head turning Lacy styles!
JEWELER'S CRYSTALS COLLECTION
 inspired by my grandfather who was a jeweler. 

  This collection offers stunning styles from crinkled cotton and tulle using real Crystal gem stones to give it extra spirit, meaning, energy and power. Even if you don't believe the crystals are always loved as jewelry. Find Impressive necklaces with real Crystal stones like Amethyst, Clear Quartz, Emerald, Citrine, Lapiz, rose quartz and others.  Especially the Bohemian appeal combined with the Dolly signature ballet element makes this collection be loved by a large audience suitable for baby, girl and women.
BEACH BALLERINA Collection
' for Dolly girls loving the Beach ' 

DOLLY by Le Petit Tom ® created versatile ballet fashion to wear on the beach or as luxury underwear. Find Dolly's Bikini's, in trendy smocked and tutu style. Made from the softest chiffon in our best selling colors, including Neo Mint being the key Fashion Color of the year 2020!
Dolly's Beach Cover Tutu dresses are very versatile and can be worn as a cover up, but also as a comfortable tutu dress as well as as a tutu.
NEO MINT! FASHION COLOR OF 2020! ******************************
VISIT US @ CIFF YOUTH
7 - 9 Aug, 2019 Bella Center Copenhagen



********************************