DOLLY by Le Petit Tom ® CLASSIC DOLL BOOT 3GBOOT CAMEL Patent
SALE - OUTLET! 60% OFF! (all sales are final!) 
LAST ONES!!
DOLLY by Le Petit Tom ® CLASSIC DOLL BOOT Camel patent leather with detachable faux fur collar  and leather lining. 
Exclusieve kinderlaarsjes van leer met uniek afneembaar bontkraagje en leer gevoerd. Kan het hele haar door gedragen worden. De DOLL Boot heeft zowel een vetersluiting als een rits aan de binnenkant voet, voor makkelijk aan en uit trekken. Handgemaakt in Spanje
CLASSIC DOLL BOOT  Made in Spain
Elegant ankle lace up boot with unique detachable faux fur trim. Our DOLL boot has a zipper closure as well on the inside foot, for easy putting on and off. Wear all seasons. Combines perfect with every outfit you wear: trousers, skirt, dress and yes, even shorts and still look Dolly! Available in many leather colors, patent leather, suede, metallic and glitter.
All Doll Boots come with unique detachable faux fur collar!
sizes:  21 up to 33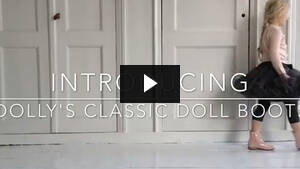 Dolly Girl Shoes by Le Petit Tom ® Handmade in Spain
Always loved those little Doll shoes & Boots you used to have for your Doll? DOLLY by Le Petit Tom ® designed those perfect shoes for your girl with that DOLLY look we all crave. All exclusive and handmade in Spain, crafted from the softest leathers, suedes and other luxury fabrics. from size 21 up to 39.
Vintage, classic yet fashion forward styles like Mary Janes in Black patent leather with gold inside, or glitter pink for instant DOLLY looks. Inspired by old movies like 'The Red Shoes' we made you Ballerina's with satin ribbons to tie around the ankle like a real ballerina. Our classic Doll Boots are timeless. All in many leather colors, straight from the Doll cupboard into your little girls wardrobe.